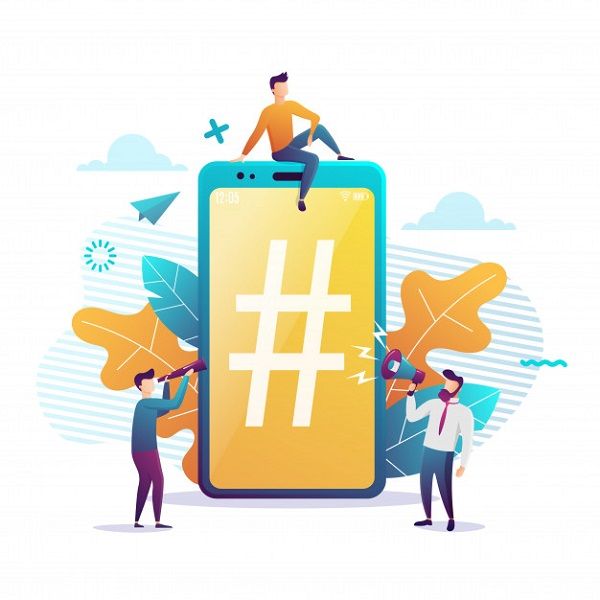 If you are not familiar with hashtags and their use then, this article will surely help you to Understand what the hashtags are and what is their use in Social Media Optimization? This informative article divided into the steps to let you know, how to use hashtags while using social media apps or websites and why you should use them.
In this article, you'll learn-
The best way to find hashtags that can work best for brand promotion
How to utilize the popular hashtags
What are Hashtags?
Hashtags mean to connect social media content to a specific subject, event, or conversation. It makes thing easier to find posts around those specific topics because hashtags integrate with all social media content with that same hashtag. The hashtag is represented by the # symbol in social media before any word to which we want to connect that topic.
For Example: #android #iOS #AppDevelopment #iPhone #AtlantaIoT #AppDevelopmentFirm #AppZoroTechnologies etc.
Hashtags are effective methods for social networking platforms to reach more people without any paid promotion. But before using them you should make sure that your privacy settings are set to public. You can use specific and relevant hashtags for better performance or you can create your own hashtags. But remember if your hashtag is too vague, it'll be difficult to find and it will not probably be used by other social media users. So you should choose hashtags very carefully if you are working for brand building or business promotion.
Why utilize hashtags?
Hashtags help to improve your social media post reach thus your post engagement and your page/channel followers may get a boost. Adding hashtags to your posts means increasing the participation conversation occurring on that social networking platform. This may result in greater engagement, boosting your brand's social media engagement through enjoys, stocks, comments, and new followers.
Creating a branded hashtag may be an effective method to promote your company and drive the conversation. Using a hashtag that is connected to an issue outside of your brand is a way to mobilize supporting a significant cause or problem.
On Instagram, more captions aren't always the best. Much like Facebook, Pinterest, Linked In, or any other platform–sometimes less is more. Using a hashtag may be an easy way to contextualize what you're talking about, without using up valuable characters or composing repetitive captions.
Sometimes, the best way to use hashtags is to find ones that currently exist. Before you can get started, you have to really find those hashtags. Luckily, there are a number of online tools out there to assist with this procedure.
Online Tools for Hashtags
TINT is a tool that may help you discover the top hashtags in the previous 30 days. It is possible to get new audiences by discovering innovative hashtags that fit your content and are recently trending.
Twitonomy can enable you to find personalized hashtags that revolve around the information you post on your Twitter accounts. It may also show you the most effective influencers using a given hashtag, as well as who is engaging the maximum.
You are going to need a premium to unlock this tool's many useful performances, but fortunately, it's reasonably priced.
Discover Hashtags for Twitter and Facebook with RiteTag
RiteTag is a popular hashtag tool that allows you to easily manage and monitor hashtag performance. It is a very powerful tool for discovering hashtags. It also supplies up-to-date use data to show you how hashtags are doing in the real world. While the premium plans offer more performance, but the free program still offers lots of benefits.
You may locate Twitter Hashtags with Hashtagify.me. It is another great tool for finding trending hashtags on Twitter. Also, it has an option to acquire email updates on trending hashtags too. It offers premium and free plans for all sizes of organizations, from individual users up to enterprise accounts.
How to Find Hashtags Directly On Every Social Network
Finding Hashtags On Twitter
When you open Twitter you will find out a trending section that shows the Twitter trends according to your location, this is the best way to find out what' trending right now in your country and what hashtags are people or brands using related to them.
There's a list of what's now popular and also a link to all the related tweets. You can also use the search bar to locate hashtags to understand what folks are using. This is a great way to use hashtags that are super relevant to the content that you would like to discuss.
Finding Hashtags on Instagram
When you open the Instagram app, you will see a magnifying glass/Search Box on your home screen. Here, you are able to browse trending and popular topics. If you are using Instagram on the browser then you can use the explore section to find out the popular content on Instagram. It may be helpful to monitor the trending topics that appear to the best of your News Feed.
Finding hashtags on Pinterest
When you search a hashtag, pins with keywords in the description will show up at the results along with pins that have the identical term in the URL, photo name, or product page tied to the Pin. Pinterest hashtags lead to search results for the keyword on your hashtags. That means if you have a hashtag on your Pin description, your Pinners can click to locate similar content for all those keywords.
Using the search box you can find out the trending topics on Pinterest. If you are using a Pinterest business profile then you can use both the search box and Trends option in the Pinterest Analytics section.
Using hashtags on YouTube
YouTube also uses hashtags in comment sections. Clicking hashtags on YouTube utilized to bring you to a page within YouTube that has similar content to your hashtag. Basically, this feature is used to relate the same content so that people on YouTube can join the same conversation on different available videos.
Designing a Hashtag Strategy
Choose specific hashtags, when needed because the more specific your search the more you will be able to target the audience you are looking for. But make sure the first letter should be capital although at some point it's not mandatory, which clarifies what you are trying to communicate.
Your competition is probably already using hashtags in their social media strategy. If you want to know, how powerful are they engaging your mutual audience? Look closely at how much or how they are using hashtags and observe what the answer is.
A successful strategy starts with understanding your audience and also taking the time to be thoroughly acquainted with what functions on each platform.
Conclusion
Hashtags are the perfect tool for communication with your followers in addition to increasing participation and bringing new clients. While it might take some time to determine the best practices for your hashtag strategy, coming up with a planned social networking strategy that helps the usage of hashtags is well worth the time you invest.
If you are looking to hire an agency for your social media optimization and social media marketing campaigns then you can contact us. We are AppZoro Technologies Inc. We are Atlanta developers, we develop mobile apps, web applications, and custom software at the best price. We at AppZoro have great IT experts for particular Social Media Optimization or Complete Digital Marketing package according to client's requirements. Let's connect with us and hire the best suitable professional for your business today. AppZoro is your technology partner in Atlanta and a trusted firm for your application development and other IoT services in Atlanta City.