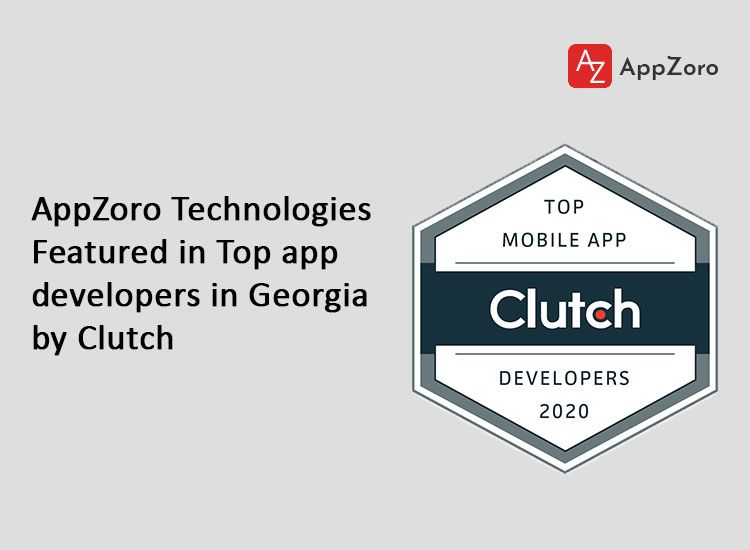 Top App Development Company of Georgia
Again a piece of good news for AppZoro Technologies and the team from the Clutch. We have featured in top app developers of Georgia in 2020 by Clutch. We at AppZoro, specialize in mobile app development. From Android apps to iOS apps, we grounded with expert knowledge in the field of IoT, E-commerce, medical tech, and other business solutions. AppZoro's team is always determined and ready to take on your next project. We are constantly creating top mobile & web applications since 2016 that will help your business grow to the next level.
Who is Clutch and What they do?
Clutch is a company that publishes unbiased reviews of B2B companies. They have featured AppZoro once again in a recent press release of top-performing B2B companies in Georgia. This is a great honor for us. That's why we are excited to share that our company has been featured highly in their directory list of the top mobile app development companies in Georgia. This honor adds to our previous recognition as a top Georgia Mobile App development Company on DesignRush.
It's not the first time when AppZoro recognized by Clutch. They prior recognized us as highly recommended B2B service providers in 2018 in Atlanta city. In the 2018 list, we were recognized as top android & ios app developers as well as top software developers. But this time we are ranking in top Georgia app developers list.
How Clutch Identify Top Companies?
Actually, Clutch uses ranking algorithms to sort the top companies in a particular field. Their ranking algorithm takes many pieces of information into account, when displaying companies on their directory pages. The most important part of Clutch's ranking alorithm is client reviews. They looks into a company's industry expertise and ability to deliver to choose the top winners.
Let's see Clutch's Customer Experience Analyst Michael Trim says what about these recognition
These companies were selected not only for their stellar service but for their innovation and expertise.
What do AppZoro's clients say about our services?
To date, AppZoro has received over 15 positive reviews on Clutch's profile. Our clients have shared their successes with Clutch. Let's have a look at what they said
A company looking to build an app is going to find a fair price and a good partnership with AppZoro.
They grasped what I wanted to accomplish and helped me get there. I'll never go elsewhere for an IT provider.
Their timeliness in getting back to me was outstanding. In general, the team had a detailed understanding of the project.
We don't have any complaints about the Android version because it's leading our company in a new direction.
Despite the many cash apps on the market, AppZoro's efforts helped ours stand out.
AppZoro was good at keeping me updated and rolling out new builds as needed.
In addition to our feature on Clutch, we were also mentioned on their sister-site, THEMANIFEST. We are thrilled to publicize that we were listed as one of the top mobile app development companies in Atlanta on the THEMANIFEST.
Here at AppZoro technologies, we are always ready to improve your business by creating dynamic applications that will allow your business to access your consumers at all times. Our team is committed to working hard with your business to access how to stand apart from competitors as well.
We are looking forward to taking on your next project.
Let's Request A Quote for your project today!!